In my opinion, the secret sauce to avoiding garden mishaps and becoming a bonafide green thumb is crystals! Everyone has their "it" thing whether it's special fertilizer, homemade compost, or a secret watering trick. Personally, I always look to the mystical. As an advanced Feng Shui practitioner I'm highly trained in the transcendental, so it makes sense that I would look to energy as the key principle to healing and growth for my own garden. Whatever your good luck charm is, it becomes the talisman necessary to give you the confidence you need to staying motivated and encouraged; so I say go for it!
For me personally there are many transcendental things I've done to enhance my garden. First and foremost, plants are not only energy but they have consciousness, just like you and me, so love on them by naming them and talk to them often. Another thing I do while watering is chant mantras. Sanskrit mantras are sacred sounds with high vibrational frequencies – even if you have a black thumb chanting is something we can all do! Just hop on over to YouTube and type in mantra and you'll find thousands to choose from! In addition, I enhance my garden sanctuary with the energy of earth itself by using crystals.
Click here for the crystal video!
Placing crystals in the garden is not only a beautiful addition of eye candy for you, but they send out specific healing energies into your plants that promotes growth, vitality and vibrancy. Because crystals transmit earth energy, your plants react to the nurturing, healing vibrations that crystals emit naturally. Mama Earth gives us so much healing everyday, and that includes our beautiful gardens. Utilizing crystals for your plants is a way that you can give them a little something extra and really show Mama Earth some much needed love. In this special way, you can show your garden respect and honor Mother Nature as a whole.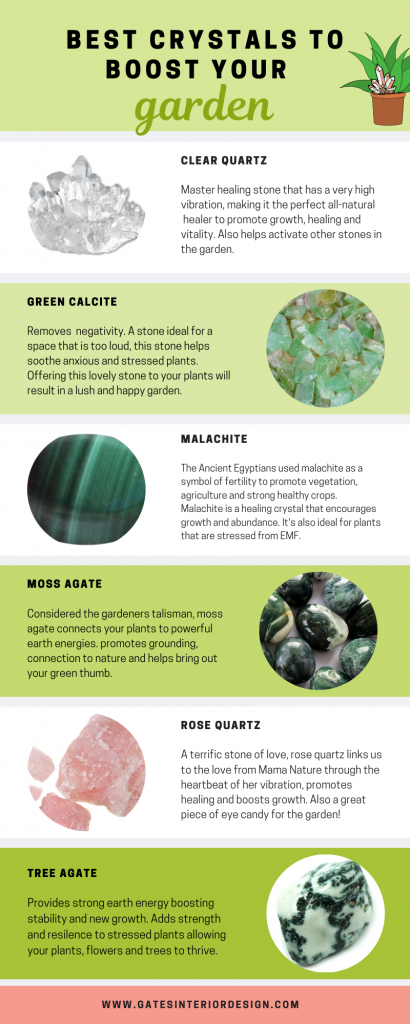 As you plan out your garden this season, I encourage you to consider adding the spiritual aspect of crystals and the transcendental to promote growth and healing. Even if you have the worst luck with plants and swear you have a black thumb, people will be bragging about your green thumb and beautiful garden. Above are some of my top crystals to consider boosting your garden this season but be sure to check out my other article, 7 healing crystals to boost your garden. Happy Gardening!