A few weeks ago one of my builders called me up to see if I was interested in doing a screened-in porch, addition with him. The clients currently have an outdoor concrete pad and are looking to make it a whole lot more luxurious and family-friendly.
What a great opportunity! I rarely get the chance to build a porch from the ground up. Most are already drawn up on the plans or the house is already built with an existing porch, with existing perimeters. Having the ability to build it means making room for all the clients needs.
So here is the existing concrete pad: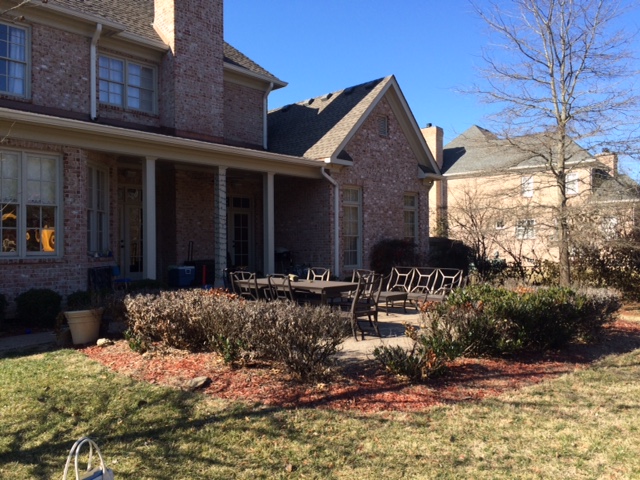 While the space is nice, it can definitely be zhushed up and made more fun. This space really lacks style. So after I measured, reviewed what the client wanted and got clear on how they really planned on using the space, I got to work.
When I start on a screened-in porch I always start on the basics and build out.
7 Things every screened-in porch needs:
1) Furniture
There are so many kick-ass options when it comes to outdoor furniture. I remember the days when there was only a few companies who made out door anything, and the options weren't so great. Nowadays the options are limitless, so pick super comfy furniture that is lounge worthy, dining worthy and hang out worthy – and don't worry about sacrificing style on your fabrics, because todays fabrics can handle anything and look good doing it!
2) Personality
Don't buy all matching furniture. Jazz it up, mix it up and give it some punch. Mix and match collections, add in some cool vintage finds and make it eclectic. This is an outdoor space and those aren't meant to be fussy.
3) Dining
All outdoor spaces should have a designated dining area. Even though your lounge furniture will likely see just as many meals, it's important to have a table and chairs to enjoy meals with friends and family – and its a great place to play games and other activities.
4) Fire
All outdoor spaces should have a fireplace and a BBQ. Even if you don't have a built-in fireplace you can still purchase a portable one and you should always have a BBQ to grill up some tasty veggies, family burgers or some great fish appetizers.
5) Activities
If the space allows, try to create different zones in your space for different activities. Watching TV, reading, playing games, surfing the web – whatever it is your family loves to do, try to get a couple of activities.
6) Lighting
Don't forget the lighting. Its always a good idea to layer your lighting. Have recessed cans, or flood fixtures, along with lamps, and candles. This gives you the ability to create absence and control the level of lighting based on your mood and festivities.
7) Fans
Don't forget the fans! An outdoor fan is essential to all porches, especially to combat the summer heat. A good 60″ fan will help cool off those warm summer nights and keep everyone comfortable.
I met with the client's a few weeks ago to go over their designplan. Here's what I presented to them:
Need interior design or feng shui help? Have questions about your own space?  We do virtual consultations all over the globe, click links below to learn more!
Feng Shui Services

---
SaveSave